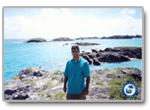 Pro Delphinus (PD) project co-coordinator Jeffrey Mangel is originally from New York State and has worked with PD since 2001. He graduated from Duke University in 2003 with a Masters of Environmental Management. Jeff also has a Masters of Science in Environmental Science from the SUNY College of Environmental Science.
Prior to his work with PD he resided in Hawaii where he participated in numerous research and conservation projects including studies of hawksbill turtles, monk seals, coral reef ecology and seabird conservation. He also worked on a number of sea turtle nesting beach projects in Costa Rica and Suriname.
In 2003 Jeff was awarded a Fulbright scholarship to work with PD to study marine otters in southern Peru. He also helps coordinate PD's ongoing seabird, sea turtle and shark projects. Jeff currently resides in Hawaii and works for the NOAA Pacific Islands Regional Office as a Resource Management Liaison.